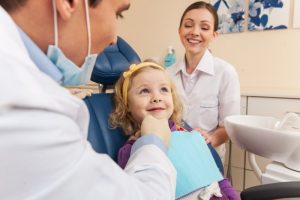 When you're looking for a dentist for your whole family, you might assume that every practice is family friendly. Although unfortunate, not every dentist is comfortable working on patients of all ages—especially children. That's why its important to find a dentist that will be able to serve your family's needs—every member of your family. Read on to Learn more about your children's dentist in Greenfield and how they can help keep your little one's smiles bright and strong!
Not All Dentists Are Skilled Pediatric Dentists
This fact remains in the needs of adult smiles and children's smiles are different. That's why it's important to visit a family dentist in Greenfield that can address the needs of even the youngest members of your family.
The dental problems that children face is mostly tooth decay and cavities, so your family dentist should offer preventive services during their pediatric dental appointments.
What to Expect from a Children's Dentist
As mentioned above, your dentist should focus heavily on prevention when caring for your children's teeth. Plus, they will be working to build a positive dental relationship with your child so that they always feel comfortable visiting them.
A typical children's dental visit consists of:
A comprehensive dental exam. The dental exam allows your dentist to evaluate the development of your child's smile. They will pay special attention to the alignment of your little one's smile. If there are any abnormalities, your dentist will discuss the possible need for orthodontic treatment in the future.
A deep professional teeth cleaning. As mentioned above, one of the most threatening dental concerns for children are cavities and decay. So, it's important to bring your child in for a hygienic appointment at least every 6 months to remove plaque and tartar build up from their teeth. Even though they have baby teeth, those teeth lay the foundation for their adult teeth. Decayed baby teeth may compromise their future smile.
Preventive services at your request. Since the focus is preventive care, your dentist will discuss using fluoride treatments to strengthen your child's enamel. Dental sealants are also a great way to keep food and dental bacteria from getting stuck in the crevices of your child's back teeth. These work to prevent cavities tremendously!
Although your little one only has their first set of teeth, it's still important to properly care for them. Bringing your child to a dentist that isn't familiar with children's smiles or comfortable working with young patients could compromise your child's future smile. Contact your local children's dentist today to schedule your next visit.
---
About Our Office
Here at BGH Dental, we know that proper oral health care should start early on. That's why we invite young patients to visit our office. Plus, it's more convenient for parents to bring their whole family to one practice. Call us today to schedule your family's next visit.