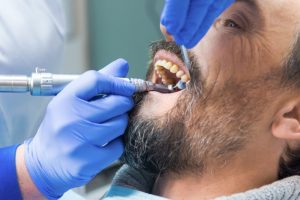 You take pride in being an informed person, which is why any mentioning of the importance of oral care on your overall health is not new to you. With that said, you know that it's important for you to find the right professional to guide you on this journey, but you're not sure how to determine which dentist is right for you. To help you make the best decision, your dentist in Greenfield has some simple criteria that you should use as measuring tools in determining who to trust for your oral care.
The Qualities of the Right Dentist
Here is a list of criteria that you should use to determine which dentist is the best fit for meeting your specific needs:
Chairside Manners – Your dentist should be patient, willing to answer your questions and calm your concerns so that you have the best experience possible.
Friendly Staff – The staff should be friendly and reflect the positive tone that the dentist has set in the office's environment.
Convenience – It's important to find a dentist that's conveniently located, so that it'll be easy for you to maintain your semi-annual visits and get there quickly in any emergent situations.
Experience – You should only trust your mouth, teeth and gums to an experienced dentist with a great track record.
A Diverse Practice – Your dentist should offer an array of services that meet all of your oral care needs. This is majorly important because you want to feel safe and secure with the relationship that you build with the dentist and staff.
Why Now is the Time to Choose
It's the beginning of a new year, so it's a great time to make a choice on who will deliver your oral care. You could have an issue developing that you aren't aware of, which is highly likely given that only 1% of the population avoids cavities throughout life. So a proactive approach to your oral care is always the safest bet.
Furthermore, your dental insurance benefits are renewed at the start of a new year, and most carriers offer up to 100% coverage for preventive dentistry visits. So apply the above criteria to your search for your dentist in Northfield and make your decision, so that you can feel secure in your oral care and build a relationship that will last for years to come.
About the Author
With 20 years of experience in the dental field, Dr. Jenna Bagley loves the profession just as much today as she did when she first started. She received her undergraduate degree from Bates College and then went on to earn her Doctorate at Tufts University School of Dental Medicine. A member of the American Dental Association, the Massachusetts Dental Association and the Academy of General Dentistry, Dr. Bagley practices at BGH Dental and can be reached for more information through her website.