Greenfield Emergency Dentistry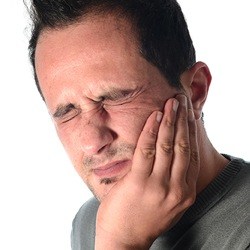 If you break an arm, you will likely know just what to do – call emergency services or head into your nearest emergency room. If you break your tooth, you may hesitate. If you're a Greenfield resident, the BGH Dental team is here to help. We are happy to offer same day urgent care appointments for patients experiencing dental emergencies. Whatever emergency dental situation you're experiencing, call our Greenfield dental office right away. One of our knowledgeable dental team members will walk you through first aid over the phone and help you manage your discomfort until you can get to our office.
---
Common Dental Emergencies
If you think you're in need of emergency dental care, do not hesitate to call us. Even if we determine you don't need to see us urgently, it's always best to get started repairing dental damage as soon as possible. Some of the situations we treat on an emergency basis include:
Broken teeth or dental restorations
Knocked out teeth or dental restorations
Broken or bent partial or full dentures
Severe toothache or dental sensitivity
Foreign items stuck between teeth
Soft tissue lacerations
---
Caring for Your Smile at Home
When you call us experiencing a dental emergency, we will walk you through first aid and pain management steps to keep you safe and comfortable until you reach our office. Some of the basics you can keep in mind include:
Clean the damaged area using cool water, but don't scrub or use oral hygiene products unless expressly directed to do so.
Use gentle pressure to slow bleeding from soft tissue (gums, lips, tongue, cheek) lacerations.
Apply ice at 20 minute intervals to relieve pain, prevent swelling, and slow bleeding.
Use floss to dislodge items caught between teeth, but don't use sharp objects or apply excessive pressure.
If your tooth, dental restoration, or a large piece of your tooth or restoration are knocked out, try to replace them where they belong. If you're unable to replace the tooth or piece of the tooth, store it in a container of water or milk.
Don't ever wear a broken, bent, or poorly fitting denture. You may cause unnecessary damage to your supportive gum and bone tissue.
---
Preventing Dental Emergencies
Not all dental emergencies are preventable, but you can reduce your risk for emergencies by keeping the following tips in mind:
Maintain good oral health by brushing twice a day and flossing at least once each day
Visit our team twice each year for dental exams and teeth cleanings
Don't use teeth to open packages or crack nuts
Don't chew fingernails, pen caps, ice, or other hard objects
Use mouthguards as directed to protect teeth during sports or from nighttime teeth grinding