Tooth-Colored Fillings – Greenfield, MA
A Natural And Stronger Option To Filling Cavities
Do you have a tooth that been damaged as a result of injury or severe decay? If you have a cavity that is left untreated, you could be looking at the possibility of an infection that will advance and wreak havoc on your oral health. In an effort to avoid further damage, our dentists at Bagley, Goodwin & Hrinda, PC offer tooth-colored fillings in Greenfield as a way to naturally fill cavities and restore smiles. The tooth-colored composite resin is a stronger restorative option that looks completely natural, making it nearly impossible for anyone to detect. If you want to take a step toward improving your oral health, call us to schedule an appointment today!
---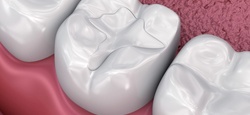 What Are Tooth-Colored Fillings?
Made up of a natural-looking composite resin, tooth-colored fillings are placed in one easy visit. They're metal free, which is great for patients with allergies, and they can be easily matched to your natural tooth color. While it may require your dentist in Greenfield to fully examine and recommend the appropriate filling type based on the location of the cavity and the extent of the damage, it is most likely you will receive a tooth-colored filling.
---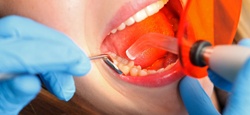 What is the Procedure for Tooth-Colored Fillings?
This one-visit procedure is so fast and easy that you won't have time to worry. Before beginning, one of our highly trained dentists will administer local anesthesia to ensure you are comfortable during the procedure. Then, they will remove any of the decay portions of your tooth, cleaning the area in its entirety to prepare it for the composite resin. Once creating the appropriate shade, we will apply it to the surface of your tooth, sculpting it to look completely natural. Not only will this repair your tooth, but it will rebuild it, too!
To ensure the resin adheres to the tooth, a curing light will be used to harden it in place. Finally, we will polish your tooth to give it a natural look and feel.
---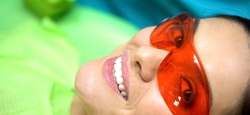 What Are the Benefits of Tooth-Colored Fillings?
They're long-lasting, which means you can rest assured knowing your filling will stay strong for years to come.
They help to prevent tooth sensitivity, so you can enjoy some of your favorite hot and cold foods and beverages.
The resin bonds to your natural tooth, making sure the tooth remains intact and doesn't experience further damage.
It creates a tight seal between your tooth and the resin, keeping bacteria out of even the smallest places.
Other fillings (amalgam) require more of your tooth to be removed, but tooth-colored fillings require only a small amount (the decayed portion) to be removed so that it can properly fill the area. This allows you to keep more of your natural tooth.