Implant-Retained Dentures – Greenfield, MA
Dramatically Improving the Fit and Function of Dentures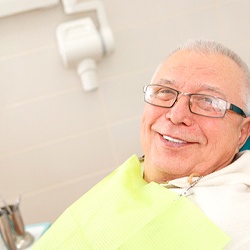 As a dentist with decades of experience, we know how incredibly helpful traditional dentures in Greenfield are after tooth loss. However, they're not without a few drawbacks! Even if they fit perfectly at first, they often become loose over time, making it difficult to chew or causing embarrassing "slips" during conversations. Thankfully, we have a fantastic solution: implant-retained dentures. If you want to improve the fit and function of your dentures, contact us today to schedule a consultation with our talented team at BGH. We want to help everyone get the most out of their dentures!
---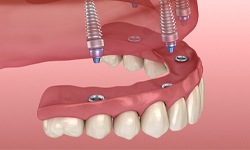 How Do Implant-Retained Dentures Work?
While traditional dentures rest on the gumline and are held in place with denture adhesive and natural suction, implant-retained dentures are supported by implants that are surgically placed in the jaw to act as replacement roots. Once the implants have fused with the jawbone, they can secure the dentures firmly in place.
There are various types, including fixed and removable. A fixed implant-retained denture is essentially "bolted" onto implants, so it must be removed by one of our dentists in Greenfield. A removable implant denture simply "snaps" onto your implants, so you can put them in and take them out on your own. During a consultation, we'll make a recommendation about which one is right for you.
---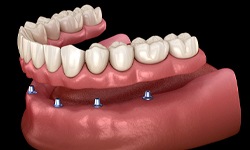 Am I a Candidate For Implant-Retained Dentures?
In general, a candidate for implant-retained dentures has reasonably good oral and overall health. During your consultation, we'll spend time looking at each of the following factors to make sure an implant-retained denture is right for you:
Health and dental history
Oral hygiene habits and gum health
Whether you have adequate jawbone density to support an implant. If not, we often recommend procedures such as bone grafting beforehand.
Lifestyle choices such as tobacco use
---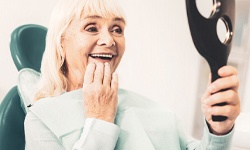 The Implant-Retained Dentures Procedure
Once we've determined how many dental implants are necessary (usually just 4-8 implants are needed per arch), you'll have an in-office procedure to have them placed in your jaw. Then it generally takes 2-6 months for the implants to fully fuse with the surrounding jawbone, during which time you can use a temporary denture. Finally, you'll come back to have adaptors (called abutments) attached to your implants and will get your new permanent denture.
---
Benefits Of Combining Dentures & Dental Implants
Combining dentures and dental implants in Greenfield gives you the best of both worlds. Here are just some of the advantages that you can expect:
Since implant-retained dentures are anchored by implants, they won't slip
They also provide much more chewing power
Implant dentures last longer than traditional dentures (and your implants themselves can last 30 years or more)
Your jawbone and facial structure are maintained by implants
You'll need much less dental adhesive or none at all
Your dentures will fit much better, minimizing the need for costly adjustments
Everyone deserves to have a smile that they feel good about. Contact us today to find out how dental implants can improve your dentures and enhance your overall quality of life!
---