Cosmetic Dentistry in Greenfield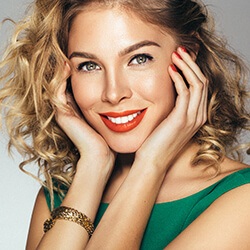 Countless studies show that a person's success is directly impacted by self-confidence. One of the biggest indicators of this self-confidence is how often a person smiles. Are you afraid to show off your smile? Do unsightly blemishes, including cracks, chips, and stains, prevent you from looking and feeling your best? There is no reason to wait any longer!
Everyone deserves a beautiful smile. We can help any member of your family achieve one with Smile Design. When you come in for a visit to our office, we will examine you or your loved ones and work with you on a plan to achieving a smile you can be confident in. We offer a variety of procedures to get you there!
---
Porcelain Veneers
The Instant Smile Makeover
Porcelain veneers can transform a smile that's suffering from discoloration, cracks, chips, gaps, misalignment, or worn-down teeth. If you're personally familiar with any of these problems and you'd like to explore options in esthetic dentistry, schedule a consultation with one of our Greenfield cosmetic dentists.
Designing Veneers
After you and the dentist determine veneers to be a great option for your smile makeover, one of our Greenfield dentists will examine your teeth and dental records.
Dental impressions or X-rays may be taken. If you decide to have a veneer, we use special tools to prepare the enamel of your tooth. At this appointment, we will make a model of your tooth and have these sent to a lab so a veneer can be created to exactly fit it. At the next appointment, we will bond the veneer to your tooth to give you a long-lasting smile you can show off.
There are many benefits to veneers. They can be matched to your natural tooth color and have an appearance very similar to tooth enamel, thus reducing the chances that anyone can tell you've had any work done. Gum tissue is very receptive to porcelain, meaning that the veneer will not irritate the gingival tissues. Also, porcelain veneers are stain resistant, maintaining their shade for years, even as you age. Most importantly, veneers help to preserve the structure of your natural teeth. It's important to note that because the enamel of your tooth is altered to receive the veneer, the process is non-reversible.
---
Teeth Whitening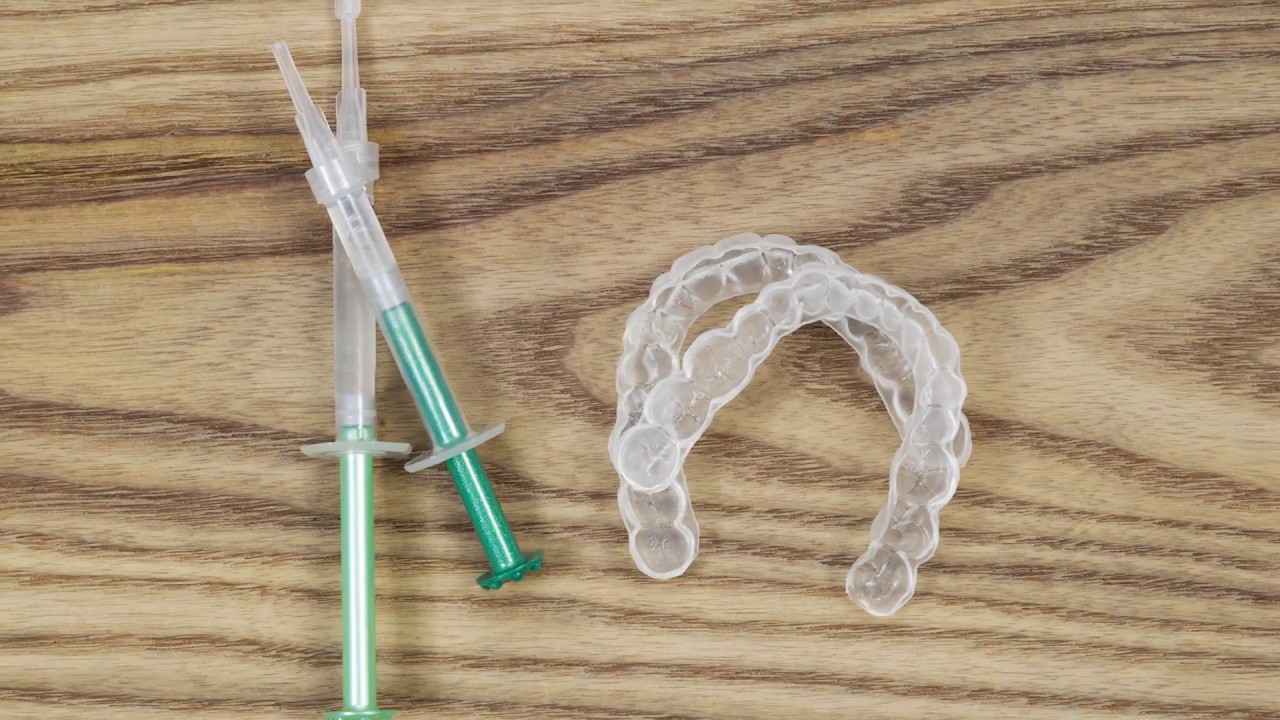 Your teeth age right along with you, and time will be sure to alter their color, despite even the most stringent oral hygiene regimen. Over time, your teeth can even become dull or discolored, especially if you smoke or drink coffee or tea. Your Greenfield dentists know that white teeth are essential for overall confidence. That's why we offer teeth whitening treatments.
Teeth whitening can often take years off your appearance and completely refresh your smile. Over-the-counter teeth whitening treatments have become very popular; however, these products contain a low concentration of active ingredient and often take many treatments to achieve even moderate results. Thankfully, your Greenfield cosmetic dentists offer a more efficient and effective solution. Our in-office and at-home teeth whitening treatments can produce maximum results, sometimes in as little as half an hour.
We offer in-office whitening, which takes one hour to produce immediate results. We also offer take-home treatments with custom trays or strips. The take-home option takes several days of treatment, but the results are considerably amplified in comparison to OTC treatments. Your dentist will help decide which treatment is best for your situation.
---
Metal-Free Restorations
Metal-free restorations like zirconia or all-ceramic crowns and bridges can be used to repair dental damage or conceal cosmetic flaws. These custom made restorations combine restorative and cosmetic dentistry to deliver fully restored form, function, and cosmetic appearance to smiles. Additionally, these restorations are the only solutions recommended for patients who have allergies or sensitivities to metal. Zirconia crowns combine the durability of metal restorations with a more cosmetic appearance. They also minimize wear against the opposing teeth. All-ceramic crowns are the most natural looking restorations. They can be shaded to exactly match the natural tooth structures, and even after years of wear, all-ceramic restorations maintain their completely natural appearance. The placement of zirconia crowns requires two appointments in order to allow our lab to craft the custom restoration. We can create all-ceramic restorations in a single day using the state-of-the-art CEREC system.
---
Direct Bonding
Using the same composite resin materials that we use to craft tooth-colored fillings, we can correct or conceal any number of dental chips, cracks, gaps, or stains. We start by shading the composite resin to blend into the smile line. Then, we apply the putty-like material directly to the tooth where we shape the resin to fill in cracks or gaps or cover stains. Then, we use a curing light to harden the composite resin in place.
Smile Makeover
If you have several aesthetic concerns, you might be a candidate for a smile makeover in Greenfield. After evaluating your mouth and learning more about your goals, your dentist will create a personalized treatment plan to transform your smile. They'll select procedures that cater to your specific needs to achieve the smile of your dreams.
---
Cosmetic Dentistry FAQs
Cosmetic dentistry is a big commitment, so it's normal to have a few concerns before you're ready to move forward. Don't worry, your cosmetic dentist in Greenfield will take the time to explain everything to ease your apprehensions. While you wait for your consultation, here are the answers to a few frequently asked questions about the road ahead.
Which cosmetic services are right for me?
No two smiles are the same, so there's not a cookie-cutter treatment plan. As a result, there isn't any way to determine which procedures you'll need without first examining your mouth and learning more about your goals. You have more solutions than ever to achieve the results you want. Your dentist in Greenfield will discuss all your options, which can include one or more procedures, such as:
Porcelain Veneers
Teeth Whitening
Metal-Free Restorations
Direct Bonding
Why is a healthy smile important for elective procedures?
Although you're interested in improving the appearance of your smile, your dentist will focus on your oral health first. Healthy teeth and gums are the foundation of a beautiful smile. If your cosmetic dentist finds any untreated dental issues during your consultation, like tooth decay, they'll have to be treated before any elective services. Without the right care, cosmetic procedures will just cover up the problem until it leads to a dental emergency or the failure of your new smile. Although prep-work may add extra steps to your treatment plan, it's time well-spent to ensure your investment thrives.
How long will my results last?
Every procedure has a different estimated lifespan, and various factors affect how long your results will last, like your aftercare routine. Depending on the procedure, your investment can last for many months to decades with the proper care. You can ensure your investment thrives for many years by using a soft-bristled toothbrush and nonabrasive toothpaste to clean your teeth at least twice daily. Use high-quality dental floss every night before going to bed. Commit to visiting your dentist for a cleaning and checkup at least twice a year. Besides keeping your mouth clean, avoid anything that may damage your smile, like using your teeth as tools or chewing hard-sticky foods.
Can I use my dental insurance to pay for cosmetic dentistry?
It's rare for dental insurance to cover elective procedures because they aren't medically necessary; however, there are some exceptions. Many cosmetic procedures also provide restorative benefits, like direct bonding or all-ceramic restorations. If your dentist determines a procedure is crucial to your oral health, you may be able to use your coverage to offset the cost. Although every plan differs, your policy can pay up to 80% of the cost of certain restorative treatments after reaching your deductible. A member of our team will work on your behalf with your dental insurance to file the necessary claim forms, so you have one less thing to worry about. We'll explain how your coverage is being used and if there's any remaining balance.