Dental Implants in Greenfield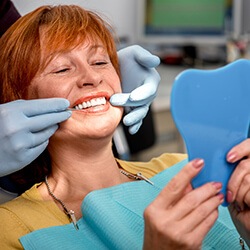 Advances in dentistry have made replacing teeth easier than ever. Dental implant technology enables us to place a small, titanium fixture in the space left by a missing tooth. This post mimics the lost root structure of the tooth and can support a crown, bridge, partial, or denture. Healthy teeth adjacent to the space are uninvolved, which is not the case with other tooth replacement prosthetics. Because dental implants feature a crown and root structure like natural teeth, they offer patients a prosthetic that looks and feels totally natural. This versatile tooth replacement solution may not be right for every patient, but it does offer an option that restores lost tooth structure while helping to maintain gum tissue volume and jawbone density.
The process is completed in two phases. The initial phase of treatment is the surgical implantation of the dental implant post into the jawbone. We place a small slit in the soft tissue, and the high quality titanium implant is positioned in the optimal location to provide support for the replacement teeth. Following dental implant placement, you'll need to wait several months to allow the implant post to fuse with jaw to mimic natural root structure. Once your dental implant is firmly in place, you'll return to our office where we'll attach your dental prosthetic.
Your specific treatment plan will depend upon the number and location of your missing teeth. A single dental implant can be used to support a dental crown replacing a tooth. Two crowns can often be fused together and supported by a single implant post. For three or more consecutive teeth, an implant post at each end of a fixed bridge prosthetic may provide adequate support. Four to six dental implants are used to support partial or full dentures to repair smiles following more advanced tooth loss.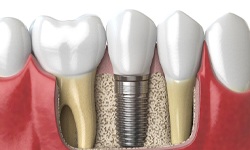 Dental Implant FAQs
Dental implants are one of the most popular and superior methods of tooth restoration treatment available. Not only do they replace the visible portion of your tooth, giving you a beautifully blended smile, but they replace the root structure of your tooth as well! If you want to learn more about the most effective way to replace your missing teeth, look at our list of frequently asked questions about dental implants.