Dental Implants in Greenfield
The process is completed in two phases. The initial phase of treatment is the surgical implantation of the dental implant post into the jawbone. We place a small slit in the soft tissue, and the high quality titanium implant is positioned in the optimal location to provide support for the replacement teeth. Following dental implant placement, you'll need to wait several months to allow the implant post to fuse with jaw to mimic natural root structure. Once your dental implant is firmly in place, you'll return to our office where we'll attach your dental prosthetic.
Your specific treatment plan will depend upon the number and location of your missing teeth. A single dental implant can be used to support a dental crown replacing a tooth. Two crowns can often be fused together and supported by a single implant post. For three or more consecutive teeth, an implant post at each end of a fixed bridge prosthetic may provide adequate support. Four to six dental implants are used to support partial or full dentures to repair smiles following more advanced tooth loss.
---
---
---
---
---
---
Dental Implant Placement – Greenfield, MA
What Can I Expect with Dental Implant Placement?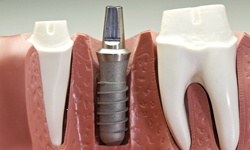 Preparing for Implant Placement
Implant Placement Surgery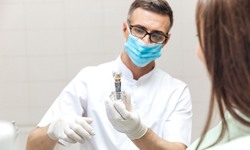 IMPLANT PLACEMENT RECOVERY
Over the next few weeks, the implant posts act as new roots, stimulating your jaw. This encourages new bone growth to allow your jaw to fuse to the posts through a process called osseointegration. During the early stages of the healing process, it's normal for there to be some slight discomfort, but you can manage it with an over-the-counter pain reliever. You might also see some swelling or bruising. Applying ice to the outside of your face for 15-minute intervals will help reduce it.
It's essential you maintain your oral hygiene to remove harmful bacteria that can lead to an infection. Clean any remaining teeth normally but be careful when brushing and flossing near the surgical sites. Do not rinse your mouth vigorously.
It's best to stick to a soft diet for the first few days while you recover. You'll want to avoid any foods that are hot, spicy, or crunchy. As your mouth heals, you can reintroduce harder foods until you're able to resume your normal diet.
Rebuild Your Smile Today!
If you're ready to replace missing teeth in Greenfield, we can help. We offer the personalized solutions you need to rebuild your smile. Contact our office today to see if dental implants are right for you. We'll explain each step in your treatment process, so you can feel confident about your decision to treat your tooth loss.
---