Invisalign FAQ – Greenfield, MA
What You Need to Know About Creating a Better Smile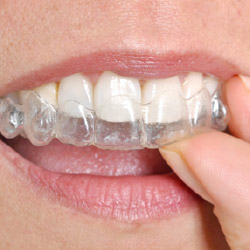 Invisalign in Greenfield can be a great alternative to traditional metal braces, but you may have questions about the procedure. Here at BGH Dental, we want our patients to be well-informed about the treatments they receive and therefore make education one of our priorities. Here are some frequently asked questions about Invisalign; if you're interested in a consultation, you can contact our practice through our website.
How Do I Know if I Need Invisalign?
Some patients may be considering Invisalign for aesthetic purposes; other times, an orthodontic treatment might be required for health reasons. Our expert dentists can examine your teeth and advise you on the best course of action.
Issues that can be fixed by Invisalign include:
An overbite that makes it more difficult to chew.
An underbite that impairs your ability to speak.
A crossbite where the upper teeth rest inside the lower teeth rather than outside.
Gaps between teeth where food can get caught.
Open bites where the upper and lower teeth don't meet.
An overly crowded mouth.
Note that Invisalign might not be suitable for particularly severe orthodontic problems.
Is Invisalign Painful?
Initially, the edges of your aligners might rub against your lips and gums, irritating them. This will pass eventually once your mouth adjusts and develops callouses. Otherwise, you'll likely experience some soreness and pressure each time you put in a new aligner. This is not a cause for alarm; in fact, it's a sign that the aligner is doing its job of gradually moving the teeth. Such discomfort usually subsides within a few days.
What Happens if I Don't Wear My Aligner Enough?
Your aligner needs to be worn for at least 22 hours a day, and it shouldn't be removed too frequently. Not wearing the aligner can inhibit your treatment's progress; the less they're worn, the longer it will take to make the desired changes. To that end, only take your aligners off when you:
Eat or drink anything besides water
Rinse them before putting them back in your mouth
Clean them
Change to another aligner
How Much Does Invisalign Cost?
There are many different factors that can affect the cost of Invisalign such as the complexity of the issue being addressed, the number of aligner trays being used, and dental insurance coverage. Every patient is different and has unique needs, so we can help you estimate how much you'll need to pay for treatment. We also offer an in-house savings plan and accept various dental insurance plans; talk with your dentist in Greenfield about your financial situation to help us determine whether Invisalign is a good option.
Learn More about Cost