All-on-4 – Greenfield, MA
Just Four Implants to Replace a Whole Arch
If one implant is needed to replace just one tooth, how many implants will it take to replace all the teeth in your upper or lower arch? The answer is: "just four!" At BGH Dental, we can use All-on-4 in Greenfield to give you strong, stable dentures that rest on just four strategically placed implant posts. Call our office to schedule a consultation if you or a loved one is facing a toothless future.
---
How Do All-on-4 Implants Work?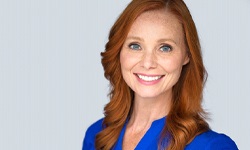 Regular dentures sit on the gums and are held in place by natural suction or a special adhesive. They'll let you speak normally and eat a wide variety of foods, but they won't stop your jawbone from deteriorating, and eventually they won't fit properly anymore. Dental implants in Greenfield that have been surgically implanted into the jaw will stimulate the bone to keep it healthy, and they'll keep your false teeth anchored in place.
---
Am I a Candidate for All-on-4 Implants?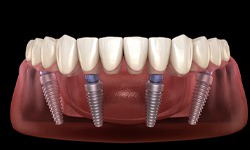 If you've lost all the teeth in your upper and lower jaw (or even just most of them), you should ask your dentist in Greenfield about getting implants that are retained by dentures. We'll need to check your oral health and resolve any issues like gum disease to make sure the procedure will be successful. You'll need a certain level of jawbone density before you receive implants; luckily, the All-on-4 procedure is designed to take advantage of the areas where there's the most bone, so that can greatly reduce the need for bone grafts.
---
What are the Benefits of All-on-4 Implants?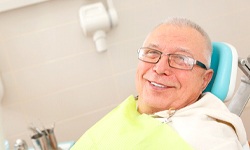 Beautiful Smile: Dentures supported by implants will both look and feel like natural teeth; many people who see your smile won't be able to tell the difference!
Improved Stability: Your dentures won't slip, making it easier to laugh and show off your grin in front of others.
Improved Chewing: The added strength and stability of dental implants will let you enjoy all your favorite foods with little to no restrictions.
Long Lifespan: Unlike other kinds of restorations, dental implants can potentially last a lifetime.
---
All-on-4 VS Traditional Dental Implants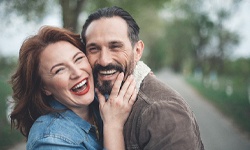 Normally, you must wait a few months after implant surgery before you can get new teeth. Thanks to the All-on-4 technique, though, there's a good chance that you can get temporary dentures in the meantime; no need to wait for new teeth to chew, smile and speak with!
---