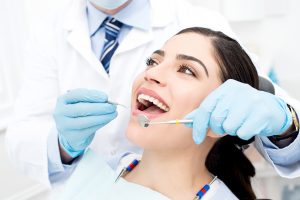 Let's face it: there's a lot of advice out there on how to stay healthy! From what type of sunscreen to use to whether you should eat carbs or not, it seems there's always a new guideline. But since this advice changes so often, it can be hard to know what's worth listening to and what isn't. But one exception to that is regular dental visits! Keep reading for five of the best reasons to see a dentist in Greenfield for checkups every six months.
You Can Catch Problems When They're Small
Seeing your dentist regularly is a lot like getting regular maintenance for your car. It helps everything in your mouth "run smoothly," and is a chance to find small problems before they become bigger problems.
Take cavities, for example. When they're small, they haven't reached the nerve of the tooth yet, so they don't cause pain or other symptoms. At this stage, the best way to find them is with routine x-rays.
If your dentist in Northfield does find a small cavity during a checkup, they can recommend a simple, inexpensive filling. But if that cavity goes undetected, it will eventually become larger and reach the nerve, where it can cause an abscess or infection.
Then it may need a much larger filling, or even a root canal and crown!
Better Gum Health
Brushing and flossing each day is the foundation of oral health because it removes cavity-causing plaque and bacteria. Unfortunately, it doesn't remove the hard deposits of tartar that build up under the gumline, which must be removed professionally during a cleaning.
These visits are also a chance for your hygienist to examine your gums, which happens once a year, or at every other checkup.
If you have the beginning stages of gum disease, there are some wonderful, proactive treatments that can prevent it from progressing.
Advanced stages of gum disease are much harder to treat because the supporting bone around each tooth has been lost, which can eventually lead to tooth loss.
Oral Cancer Screenings
You may not realize it, but your dentist and hygienist perform an oral cancer screening at every checkup. This usually only takes about 60 seconds and involves close visual inspection of your tongue, lips, cheeks and the back of your throat.
An estimated 50,000 people will be diagnosed with oral cancer this year. Regular screenings are the best chance for early detection!
Hygiene Instruction
Sometimes just a small tweak in your brushing and flossing technique can translate into big results. But the only way to know if you're doing well is to have a professional evaluate your plaque levels and gum health.
In addition to getting technique tips from your dentist in 01301, you'll also learn about tools that can make a big difference, like an oral irrigation device, floss picks, or an electric toothbrush.
Your Teeth Feel Great
Even if it's not your favorite way to spend an hour, doesn't it feel fantastic to have slick, smooth teeth and minty fresh breath at the end of your cleaning? When it's all said and done, it's a great way to put a spring in your step for the rest of the day!
About the Author
All of the dentists at BGH Dental are dedicated to providing their community with outstanding dental care. Their goal is to prevent problems instead of treating them, so they always encourage their patients to get preventative checkups and cleanings twice a year. If you have any questions, they can be reached via their website or at (413) 772-0842.