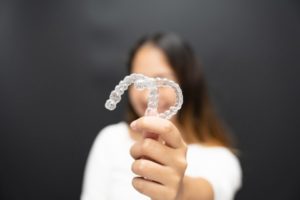 Not all of us ended up getting that perfectly straight smile that we hoped for, but that doesn't mean that you need to settle for it. When it comes to your orthodontic needs, there are a variety of options out there that can give you the results that you're looking for – like Six Month Smiles and Invisalign. While they are both excellent solutions, they have lots of differences. Continue reading so you can determine which option is best for you.
What Is Invisalign?
Invisalign uses a series of clear plastic aligners that slowly shift your teeth into their desired positions. It's one of the best alternatives to traditional braces and is effective for the majority of mild and moderate cases of misalignment. If you opt for this treatment, you need to wear your aligners for 22 hours each day and only remove them to brush, floss, eat, and drink. Approximately every two weeks, you will start using a new set of aligners until you reach the desired result.

What Is Six Month Smiles?
This newer orthodontic treatment can help you achieve a straighter smile in just six months! It is designed for patients who are 16 years and older with crooked, misaligned, or gapped teeth. This treatment uses clear braces and tooth-colored wires so it isn't so obvious. The thing that makes Six Month Smiles so unique is that it only adjusts the teeth in the front of your mouth. This way you can achieve obvious results in a shorter period of time than you would with traditional orthodontic treatment.
Which Is Best for You?
Not everyone who is a candidate for Invisalign is also a good candidate for Six Month Smiles. This is because Six Month Smiles only addresses minor aesthetic issues in the front of the mouth while Invisalign is better able to address both aesthetic and functional problems. For example, if you have a crossbite and got Six Month Smiles, the treatment wouldn't correct your bite problem. However, if you only have some minor crookedness or gapped teeth that aren't causing significant problems, Six Month Smiles may be a better option for you to get the beautiful results you're looking for in a relatively short period of time.
Still aren't sure which option is best for you? You can learn more by scheduling a consultation with your dentist. This way, you can find out if you are a good candidate for either treatment and come up with a plan to help you achieve your smile goals!
About the Author
Dr. Jenna Bagley is an experienced dentist who has been working in the field for more than two decades! She earned her dental doctorate from Tufts University School of Dental Medicine and is a proud member of the American Dental Association, Massachusetts Dental Association, and the Academy of General Dentistry. To learn more about Invisalign and Six Month Smiles or to schedule a consultation at her office in Greenfield, visit her website or call (413) 772-0842.