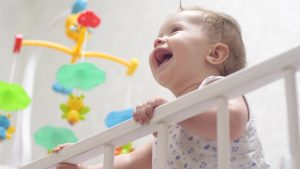 Keeping up with a baby can be challenging: changing diapers, waking up in the middle of the night, baby-proofing corners and sharp edges around the house. In the middle of what can at times seem like chaos, you may not think about scheduling a trip to a children's dentist – but you should! According to the American Dental Association, children should visit the dentist after their first tooth appears or before they celebrate their first birthday. So even if your young son or daughter's smile is mostly pink gums instead of pearly whites, it may still be time to schedule their first visit to a children's dentist in Greenfield.
Why You Shouldn't Wait to Take Your Kid to the Dentist
As soon as teeth emerge from the gums they are susceptible to tooth decay, so do not wait to schedule your child's first dental checkup. Baby teeth also more easily decay compared to secondary, or adult, teeth, meaning your young one may develop cavities easily without proper oral care. Fortunately, pediatric dentists are trained to identify potential trouble inside the mouths of young children, including cavity formation and issues related to the growth and development of the jaw and mouth. Early intervention is key to safeguarding your child's tiny new teeth.
Use the Dentist as an Educational Resource
A child's first dental checkup is also an opportunity for parents to discuss with the dentist proper oral care for children. Talk with a children's dentist about techniques for teaching kids how to take care of their new teeth. They will be able to provide advice on how to get your son or daughter started on a lifetime of good oral hygiene.
How to Prepare Your Child for Their First Dental Checkup
The first time stepping into the dentist's office can be a bit intimidating for young children. Here are a few ways to help ensure your child's first dental checkup is a positive experience:
Choose a family-friendly dentist – Selecting an experienced pediatric dentist with a welcoming office atmosphere can help your son or daughter feel comfortable during their first visit.
Be a good role model – Babies and toddlers are like sponges and are constantly absorbing and processing what they see around them. If they see you brushing and flossing your teeth every day, they will want to follow suit.
Talk to your kids about oral health – In the weeks leading up to their first dental appointment, talk to your children about how to take care of their teeth. Get creative and incorporate dental health themes into story time before bed!
Lifelong good oral hygiene habits should start early. To help ensure your child stays smiling long after their first tooth comes in, contact a children's dentist in Greenfield today.
About the Practice
At Bagley, Goodwin & Hrinda (BGH) Dental patients of all ages – from grandparents to young children – can receive comprehensive dental care that meets their unique need. The team at BGH Dental knows that good oral hygiene is a habit that should start early, which is why they are happy to welcome young children as new patients. If you want to learn more about BGH Dental, visit their website today or call the office at 413-772-0842.