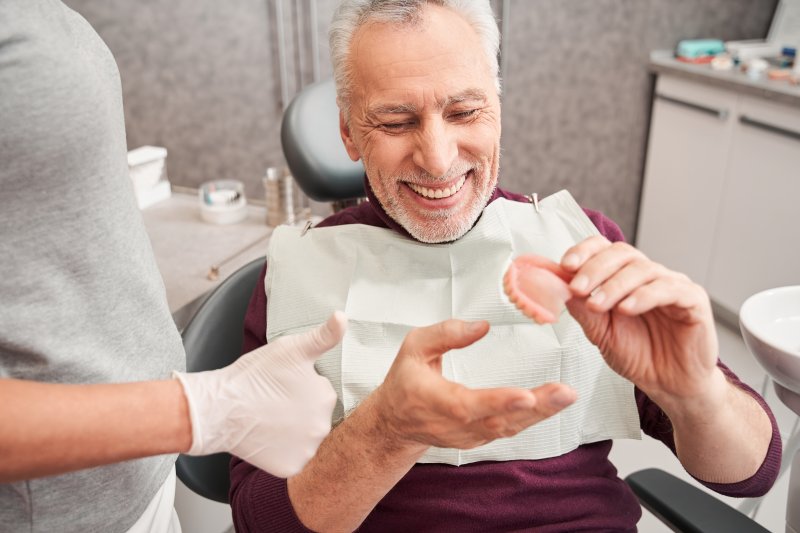 While dentures offer a fantastic, removable replacement for missing teeth and surrounding tissues, leaving them on 24/7 can do you more harm than good. Dentures may restore vital functions to your lifestyle, such as talking clearly, eating efficiently, and smiling confidently, but it's essential that you take them out every night before bed to prevent complications. Here is more about what happens if you keep your dentures on all the time.
When Should I Take off My Dentures?
You should wear your new dentures for the first 24 hours after getting them, but from then on, taking them out every night is crucial to maintaining your oral health. Most dentists recommend taking your dentures out for at minimum six to eight hours a day to give your gums a well-deserved break. When you remove your dentures, soak them overnight in room temperature water or a cleaning solution. This will help your prosthetics retain their shape and prevent them from drying out and becoming uncomfortable to wear.
Remove your dentures if they don't fit well and make an appointment with your dentist to have them relined or replaced.
Another situation in which you should take off your dentures is if you are experiencing pain. Contact your dentist if your discomfort extends beyond the initial adjustment period of one to two months.
The Consequences of Leaving Dentures on All the Time
Constantly keeping your dentures on has negative repercussions on your oral health. Here are some issues that might arise if you don't remove your dentures for the recommended 6 to 8 hours a day:
Unhealthy Tissue
If you don't take off your dentures, bacteria will accumulate from all the moisture and food debris trapped underneath. This can lead to various dental issues such as gum disease, tooth decay, and bad breath.
Accelerated Bone Loss
The constant pressure from dentures on your underlying bones and gums can expedite bone loss and cause facial collapse. If they stay in your mouth all the time, your gumline can't receive essential nutrients or have any time to rest.
Denture Stomatitis
This condition occurs when the soft tissue of your mouth is covered by dentures and that area becomes irritated and inflamed. Removing your dentures for the appropriate time significantly reduces your risk of developing denture stomatitis.
Respiratory Issues
Leaving your dentures on for too long increases the risk of contracting respiratory infections and doubles the likelihood of developing potentially life-threatening pneumonia.
Remember, if you're wearing your dentures 24/7, you're not taking the time to remove them and clean the prosthetic thoroughly. Dentures become coated with bacteria and plaque that should be removed daily to avoid tartar buildup. Maintaining a good oral and denture hygiene routine is critical to extending the lifespan of your dentures.
About the Practice
At BGH Dental, we are committed to offering high-quality, comprehensive treatment options to keep your oral health in pristine condition. Dr. M. Sean Hrinda and Dr. Jenna Bagley have each been working in the dental field for over twenty years and are passionate about helping you achieve your dream smile. If you are thinking about getting dentures, contact the BGH Dental team through their website or by phone at (413) 772-0842.