Cost of Dental Implants – Greenfield, MA
Is a New Smile in Your Budget?
At BGH Dental, we like to recommend dental implants in Greenfield as a solution for missing teeth whenever possible, but many patients may have concerns about the cost. Naming an exact price can be tricky thanks to the different factors involved in every individual's case, but we can help you form an estimate that you can trust and work with; remember, if you do end up getting dental implants, you'll find that they're well-worth the investment! Contact us today to schedule a consultation and begin the implant process.
Types of Dental Implants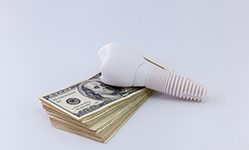 It almost goes without saying, but the number of teeth you're missing affects the number of dental implants you need, and that can greatly influence the final price. You can get a single implant and a crown if there's only one tooth missing, but there might be a few different solutions for more extensive tooth loss. A few teeth spread out in the mouth might need individual implant posts, but if three or four in a row or missing, a bridge supported by a pair of implants can replace them all at once. If you're getting implant-retained dentures to replace an entire arch, you might need as few as four implants or as many as eight.
What are the Stages of Dental Implant Treatment?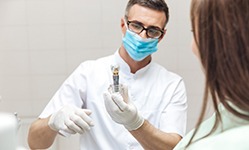 You'll have to budget a separate cost for each of the different stages of getting dental implants. In many cases, you might need to get bone grafts so that there's enough density in the jaw to support the titanium posts; also, gum disease and other oral health problems need to be treated beforehand.
Surgery will be performed to put the implants in the necessary areas in your mouth. After your mouth has been given a chance to heal, you'll need to come in again to receive an abutment, which is a device that connects the implant to the prosthetic tooth or teeth. The last step will be to create and place your crown, bridge or dentures.
Are Dental Implants Worth the Investment?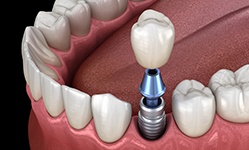 Dental implants have many benefits for your smile that other restorations won't provide. They help keep the jawbone healthy and strong by providing the same stimulation that natural teeth usually provide. They also ensure that your replacement teeth won't slip while chewing or talking (unlike traditional dentures), and they don't require the removal of any enamel (unlike traditional bridges).
While other restorations might seem less costly at first, dental implants can last for decades – sometimes even the rest of your life – without needing to be replaced and don't require much special maintenance. In other words, you could ultimately end up paying less for them than you would have for other treatments.
Does Dental Insurance Cover Dental Implants?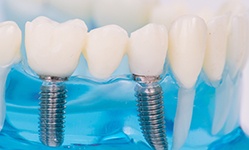 We'll help you make sure you're getting the most out of your dental insurance benefits. Typically, dental implants won't be covered, but your plan may help pay for related procedures and appointments. We're happy to help file claims for out-of-network plans.