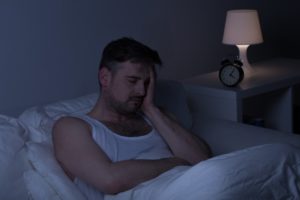 With the cold months of winter behind you, you might have noticed you're not sleeping as well. If you have sleep apnea, a good right night's rest can already be difficult without tossing and turning because you're uncomfortable. It may not be from a bad mattress. Believe it or not, heat can make sleep apnea worse, which means complying with your treatment plan is more important than ever before. Here's how you can breathe better and sleep peacefully during the summer.
What is Sleep Apnea?
The most common type of sleep apnea is caused by an obstruction in the airway created by the tongue or soft tissues collapsing. Obstructive sleep apnea can lead to hundreds of pauses in breathing frequently throughout the night. Each breathing disruption depletes your body of oxygen and interrupts your sleep cycle. You can be at risk of several health issues if the pattern continues long term.
Temperature Can Affect Your Breathing
With temperatures on the rise, you may experience more challenges with your breathing and sleeping. Heat makes your body work harder to maintain a normal temperature, particularly your heart and lungs. People with underlying health conditions can be more susceptible to complications caused by heat and humidity, which can make it difficult to breathe.
Healthcare professionals recommend keeping your bedroom temperature at 60 to 67 degrees Fahrenheit. Since the core temperature of your body naturally decreases as you fall asleep, setting your AC in this range can promote better rest.
Sleeping During a Heatwave
You don't have to let the summer heat affect your breathing or sleep quality. Besides lowering the temperature of your room, drink plenty of water to stay hydrated and keep your curtains closed to prevent your body from getting too hot. Consider sleeping with a fan and don't forget to use your CPAP or oral appliance.
It's not uncommon for CPAP compliance to decrease during summer because heat can make the nose or mouthpiece uncomfortable. If your CPAP is bothersome, you may be a candidate for oral appliance therapy.
The custom-fit device is effective for mild-to-moderate cases of obstructive sleep apnea. It positions your tongue and jaw in a more comfortable position to keep your airway open. You won't have to worry about a sweaty mouth or nosepiece keeping you awake.
With the right environment and treatment, you will get the rest you need to wake up feeling alert and ready to enjoy the warm weather.
About Dr. Jenna Bagley
Dr. Bagley earned her dental degree from the Tufts University School of Dental Medicine and has regularly continued her education in many specialties, like sleep apnea therapy. She is a proud member of the American Dental Association and several other professional organizations. Request an appointment through our website or call (413) 772-0842.