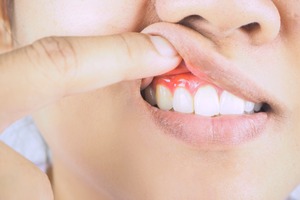 When you have sleep apnea, your breathing may be interrupted multiple times throughout the night, forcing your body to frequently wake up for air. This dangerous condition can leave you feeling exhausted during the day and may potentially lead to heart failure and strokes. But did you know that sleep apnea could also put you at a higher risk for gum disease? Here's how a sleep disorder can affect your oral health as well as what you can do to improve the quality of your rest and protect your smile.
The Connection Between Sleep Apnea and Gum Disease
Multiple studies indicate a relationship between sleep apnea and gum disease. For example, one study published in the Journal of Periodontal Research found that 60% of participants who were diagnosed with periodontitis (advanced gum disease) also had a form of sleep apnea.
What's the reason for this connection? When you have sleep apnea, you're more likely to breathe through your mouth while asleep. This is a problem because mouth breathing tends to decrease the flow of saliva. Without a healthy level of saliva to clean your mouth, harmful oral bacteria will thrive, increasing your chances of a gum infection.
What Can You Do If You Have Sleep Apnea?
You can minimize the impact sleep apnea has on your oral health – as well as the rest of your body – by having it treated quickly. Watch out for warning signs of sleep-disordered breathing, such as loud chronic snoring (which is normally reported by another person), exhaustion during the day, irritability, raised blood pressure, and morning headaches. If you have any reason to think you might have sleep apnea, you should reach out to a sleep expert as soon as possible.
There are a few different ways sleep apnea can be treated. Many sleep dentists might suggest the Vivos oral appliance system. You'll be given a customized appliance that uses gentle pressure to reshape your oral structures, thus correcting any anatomical issues that might be contributing to your sleep disorder.
How Can You Protect Your Smile from Gum Disease?
Of course, while you're looking for a solution for your sleep apnea, you'll also want to take whatever steps you can to protect your smile from gum disease. You can improve your gum health by:
Brushing thoroughly at least two times a day.
Flossing daily.
Rinsing with an antibacterial mouthwash.
Drinking more water to encourage saliva production.
Staying away from sugary foods and drinks.
Visiting your dentist at least twice a year for routine checkups and cleanings.
In general, the more proactive you are about having sleep apnea treated, the more likely you are to avoid gum disease and other oral health issues.
About the Author
Dr. Jenna Bagley has been working in the dental field for more than two decades. She graduated from the Tufts University School of Dental Medicine, and she is currently a member of the Massachusetts Dental Association. She is particularly passionate about helping her patients enjoy a better night's rest by treating their sleep apnea with the Vivos system. To schedule a consultation with Dr. Bagley at BGH Dental in Greenfield, visit her website or call (413) 772-0842.