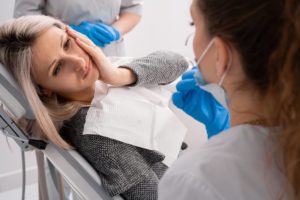 Dental emergencies are stressful and can happen when you least expect them to. Although some can be handled at home, others will need immediate attention to get your smile back on the right track. Regardless, the first thing you should do in an urgent situation is contact your emergency dentist in Greenfield. They'll get you penciled in for an emergency dental appointment at the earliest convenience. Read along to find out what you can expect during this visit.
Why Do People Need an Emergency Dentist?
Most people visit their emergency dentist when they're experiencing persistent pain, discomfort, or sensitivity. Some of the most common reasons for urgent visits include:
Lost Tooth – Teeth can get knocked out as the result of a sports injury or extensive decay. Either way, a missing tooth requires immediate professional attention.
Chipped Tooth – Small chips can occur because of food or an accidental injury. Luckily, a chipped tooth can easily be fixed with a crown, veneer, or dental bonding.
Broken Tooth – A tooth can break due to a tiny or hidden chip. Oftentimes, the discomfort and pain are more severe than that of a chipped tooth.
Something Stuck – Believe it or not, having something lodged in the wrong place can lead to a dental emergency. If it gets stuck deep within the crevice, it can result in pain and inflammation.
Lost Filling – Failing to seek treatment for a lost filling can put you at risk of further damage or infection.
What to Expect During Your Emergency Visit
An emergency dental appointment is a bit different than a standard checkup. To help you prepare for your visit, here's what to expect:
Get Seen Immediately
If you're facing a severe dental emergency, you'll likely get scheduled as soon as possible. Meanwhile, patients experiencing milder situations may be seen within a few days. As a general rule of thumb, emergencies that are causing patients significant pain and discomfort are seen sooner rather than later. Over the phone, you'll receive instructions on how to handle your situation until you get seen by a dentist.
Have an Emergency Exam
While routine exams are used to assess your overall oral health, emergency ones only check the source of the problem to determine the best course of action. Before working on your treatment plan, your dentist will ask about your medical history and current medications. Of course, this step may be skipped if you're seeing your usual dentist.
Dental Anesthetics or Sedation
Are you experiencing pain or sensitivity? If so, your dentist may use a local anesthetic to ensure you're comfortable during your examination. Patients who need emergency dental treatments may also receive anesthetics or sedation.
Choosing Your Treatment Method
While it's possible to relieve your pain during an emergency visit, fixing the underlying problem may require an additional appointment. In the meantime, your emergency dentist in Greenfield will provide a temporary solution to hold you over. An emergency visit can offer you the treatment you need now and allow you to create a plan for ongoing concerns at upcoming visits.
If you suspect you have a dental emergency, don't hesitate to contact your dentist. With their help, your smile will be back to normal in no time!
About the Practice
At BGH Dental, we offer comprehensive and high-quality services for patients of all ages. Our team is passionate about helping others achieve and maintain optimal oral health. If you're experiencing a dental emergency in Greenfield, give our office a call right away. We offer same-day appointments so you can get the prompt relief you deserve. You can schedule a visit via our website or call (413) 772-0842.