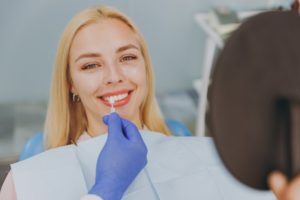 It seems like wherever you look online, you see gorgeous smiles completely free of flaws. However, not all social media stars necessarily have their genetics to thank for their beautiful grins. Veneers are becoming more and more common amongst celebrities, and that includes some of your favorite social media influencers that you might follow. Continue reading to learn which popular influencers have veneers and some reasons why.
Which Social Media Influencers Have Veneers?
When it comes to social media influencers, appearances are very important. While it may seem that every photo contains only perfection, the unblemished images you see can't be credited to nature. In addition to photo editing software and picking out the perfect angles, many influencers can credit their beautiful appearance to veneers. If you are familiar with the following stars, it's likely you have noticed dramatic changes to their smile. They can all thank veneers:
Jeffree Star
Tana Mongeau
Gigi Gorgeous
Huda Kattan
Why Do Influencers Love Veneers So Much?
Here are some of the reasons why veneers are so popular among social media stars:
Corrects Numerous Imperfections: The great thing about dental veneers is that they can fix all sorts of problems. Whether there are a few chipped, discolored, misshapen, gapped, or undersized teeth, veneers are a quick and easy solution. These thin shells of porcelain can camouflage a wide array of different cosmetic imperfections. That means none of them will show through for the camera.
Quick Treatment: Veneers can be placed in as few as two appointments. During the first one, the dentist will prepare the teeth by removing a small amount of enamel. Impressions will then be taken and sent off to a dental laboratory to make the veneers. During the final appointment, they are adhered to the teeth.
Natural-Looking: While influencers are often striving for perfection when it comes to their appearance, most aren't looking for super obvious results. When placed by a skilled dentist, veneers appear perfectly natural. They are customized to be the exact size, shape, and color needed for the ideal outcome.
Easy Maintenance: When it comes to caring for veneers, it is not much different than taking care of natural teeth. They just require regular brushing, flossing, and trips to the dental office for regular checkups.
Long-Lasting: Veneers are bonded to the teeth and resist both decay and stains better than your natural enamel. This is because they are non-porous. When cared for properly, they can last for about 15 years or even longer before needing to be replaced.
Just because you don't have a million followers doesn't mean you can't have a smile just as bright as an influencer. With the stunning results that veneers offer, it's no wonder they are becoming so popular. It's an easy way to achieve a picture-perfect smile!
About the Author
Dr. Jenna Bagley is an experienced dentist who has been working in the field for more than 20 years. She earned her dental doctorate from the Tufts University School of Dental Medicine. Currently, she is a proud member of the American Dental Association, Massachusetts Dental Association, and the Academy of General Dentistry. To learn more about veneers or to schedule an appointment at her office in Greenfield, visit her website or call (413) 772-0842.